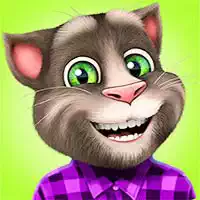 Talking Tom games
Since the origin of this online free fun game, through years it has developed into a mega-million industry that now embraces not only a cat himself but also a lot of his friends and colleagues. First and foremost, after Tom has run onto inexplicable success, the developers added Angela to make him not so lonely. From the very beginning, developers were just hinting at the possible continuation of their relationship – but then it definitely evolved into biggest options: Tom and Angela got married and have had their kids, their small copies. The variety of Tom's universe is huge now and has more than 10 various characters that support and contribute to it.

Features of Talking Tom games played for free online
- Tom and/or his spouse are in the center, whatever they do
- they are put in different situations: brushing teeth, being Tomacula (Tom Dracula, at least at Halloween), bathing, giving birth to a baby, being ill or sick, going to a doctor for examination and treatment, making various outdoor activities like constructing a snowman, running, having motorcycle insurance, opening Kinder Surprise, making a shoe design, playing a piano on speed and precision, going on a picnic, meeting friends, and so on
- it is easy to get confused seeing so many games about Talking Tom but they can kill months and years of time – giving huge fun in return.

We wanna offer you some fun with Talking Tom games
There are over 50 games about Tom and his pals at ours. Explore every aspect of life with those cute fluffies and make sure you have a lot of satisfaction!