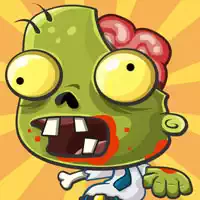 What are zombie games?
You are surrounded by hordes of undead – this is the main storyline of 99% of zombie games, no matter if they are free or not, online or offline, made for PC, PlayStation, Wii or your mobile phone. Zombies in such games may be depicted in many different ways, starting from slow-moving walk-alone brain eaters easy to kill to insanely fast creatures running on you in groups or waves from all sides, hard to kill and able to destroy not only your flesh but also your car or even a temporary shelter. Lovers of all grades of zombies will find it amusing to play online games, selecting own beloved one from hundreds of available.
The most frequent type of this genre is a shooter/slasher from the first or third person. This is often connected with completing levels, earning various bonuses for it, struggling with bosses and relocations to open more map. But sometimes zombie games aren't just shooters with elements of the strategy. You can also try yourself being a zombie on your own, eating human flesh or attacking them to move the hordes of zombies forward. Or this can be a step-by-step strategy where you need to build a city or walls to defend yourself, even build economy and trade to other survivors, raising new soldiers and so on. There are many games exist and you will definitely find something interesting for you.

Features of online zombie games
- strategic and operative planning is a must
- making the right choices to survive
- the best use for your scarce resources, sometimes in the frames of limited time
- some games will require agility of your reaction
- different locations and quests will give a chance of unique earnings and experience
- so many types of ugly zombies that will make your soul satisfied with their repulsive look.