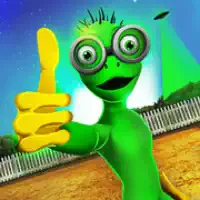 Alien games online: play with us for free
Space invaders – here the imagination of online games creators thrive at fullest, as they can be:
- any form, size, color
- have any physical traits – like 10 limbs-tentacles or one huge foot to jump, anything
- can have super-advanced technologies, which they would use to kill the humanity. Or vice versa – to help us thrive. But, to admit it frankly, there are too few games online played for free, where aliens are good and helping creatures.
Deciding to play this category, you will, with a high degree of certainty, face with shooters. You'll be offered to kill approaching aliens, doing this from the first or third look. But if it will not be the case – then you will probably enjoy using the alien technology: teleportation, flying on the space saucer or running away from them in the rescue, avoiding high-tech pitfalls.

Games about bloodthirsty aliens: their traits
Admit it: nobody likes aliens. People afraid of what they don't know. That's why we think they definitely have to be invaders. And have a little or nothing in common with our looks. Like a green-colored octopus with 65 tentacles, smoking a cigar, which is actually a mind-controlling device. Oooh, creepy.
So that is why in about 90% of the cases we can highlight such common traits of those games:
- aliens do not look like people. If they do – it is very bad either, as they are getting inside of our bodies to control them, not worrying too much about preservation of normal functioning of it, which usually leads to the death of the host (and sometimes creepy one)
- as we afraid of them, we'll try to kill or escape
- if they are not depicted as hostile creatures but as good ones – then still, they have to differ from us so we can laugh at them, overcoming our fear of unknown in this way
- we do want their advanced technologies so, probably, you will face with their flying saucer playing a game. Or ray-shooting guns that annihilate everything.