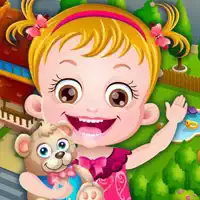 Baby Hazel games playable online – general info
If you don't know, Baby Hazel is a nice little girl with a broad head and golden hair. Depending on a game, you are free to change the hair color but usually, it is golden. The other features of her are:
- almost always smiles, no matter what the occasion is (only exclusions from that rule is when she has some troubles – like skin leisure, dental or eyes problems – basically speaking, anything that concerns health and the necessity of its fastest treatment)
- she can do a lot of things – depending on a game – from grooming her hair and being a teacher in the school of hygiene to being a star of the Bday party and going fishing
- she is always a baby – so, unlike the other characters that came to the world of online free games already in their adulthood or adolescence, she is always a baby and has been so – that is, there is no other version of her, older or younger
- she teaches us all positivity, being nice to everyone around, helping, and caring – possessing the traits of character, which many of us lack.

The excitement of Baby Hazel you can receive playing with, in our catalog
Try to play 'Baby Hazel Spa Makeover', '… Newborn Vaccination', '… Hand Fracture' (or akin with medicinal issues if you don't feel sorry for her too much to play those, as they don't disappoint you), or something very positive like '… Photoshoot' or '… nature Explorer'.