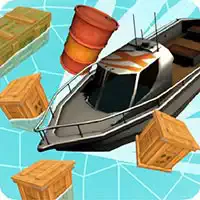 Sailing on a boat is very entertaining. When you slide on the water surface in a boat, independently of its size and shape, you feel large freedom, inhale the salty breeze of the seas and oceans, and plan your own path, which can take you nearly anywhere on the planet (as soon as this place has harbor to drop anchor). You can also live on a boat, no matter if you're just anchoring yourself on some pier or sailing around the globe alone or with a crew, friends, or family (some people actually make their private boats a place of their life for years and decades). The feeling of being a captain or a part of the crew is always something exhilarating!

Boats are used for various purposes besides sailing around. You can:
• make fishing
• deliver something from point A to point B for money (and thus, earn a living)
• make various tours for tourists (for money) and friends (for fun and entertainment)
• make dates on a boat with a person of your affection
• go to someplace to stay there in a harbor to avoid paying rent for land or for a house, which today is expensive in a number of countries in the world
• play our free boat games, which we have collected on our web server.

As for the latter, the freely playable boat games, you can do such actions in them: hunt for sharks and other fish, drive boats (with high and low resolutions), play battleships, sail Jet Ski, race on the water, drift, explore floating devices other than boats (an online boat game to play named 'Floating Water Bus Racing Game 3D' is a great example), build islands, escape tsunamis, or avoid pirates. We're sure that the diversity of games offered to you in this online category will be able to enthrall you for hours, giving you fun and fascination with the gaming mechanics.