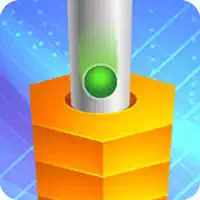 Did you know that not only balls could bounce? Bouncing means jumping or leaping from or on some surface thanks to the internal elasticity or spring tension that an object has. That means that springs can also bounce. And animals. Actually, people can, too — during jumps and running, using their own feet or using special devices for bouncing and leaping. The latter ones are most commonly known as pogo sticks and jumping stilts. Actually, you might have had a pogo stick in your childhood (if you were born or grew up in the US).

The online bounce games playable for free are so numerous! We already have around 150 pieces of them but we wouldn't say that we have added to our web catalog all of those existing in the world so far. We do update this page once in a while (so this makes the number of free bounce games gradually increase). But we do have many already and you can now explore such instances of fun:
• shooting a ball to something to destroy or scatter it ('Side Shot Game' or 'Pirate')
• doing the street fight to bounce and kick ('Street Fight King')
• leaping among surfaces and avoiding dangers ('Roller Ball 5')
• doing stunts ('Stickman Bike' or 'Mega Ramp Car Racing Stunt Free New Car Game 2021')
• avoiding dangerous falls ('Glass Challenge Squid Game' or 'Dancing Hop: Tiles Ball Edm Rush')
• mastering the rotation of objects or another their motion ('Flashing Square' or 'Evasive Balls Game', amongst many others).

There are many other pieces of fun that free bounce games provide. Their biggest part wants you to show your best skills, which are generally about agility, perseverance, and reaction. In so very many games, you will have to make a ball or another running object to avoid dangers like spikes and pits, so you can become a very trained player with an excellent speed of reaction. Want it to happen? Then start playing these games right now!