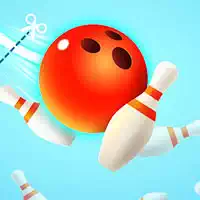 What are Bowling games?
Bowling in many post-Soviet countries is something rather expensive and not so popular for an every-day amusement as it is in most long-capitalistic countries. The completely different situation is with online bowling free games – you don't pay for anything and may use the bowling track as long as possible and even in the prime time. Lying in your bed. Or in the workplace – the choice is yours.
Did you know that the bowling pins are also called skittles? Yes, those varied-color chewable candies that spoil your teeth so much and so chemically-stuffed. Before the word has started to be extensively promoted as the one belonging to candies, it was used to define the pins for bowling. Why? It comes from old Scottish 'sceoten' and means 'to shoot'. Thus, people used balls to shoot skittles. With time, the word became a strong synonym of fun and ease of living. There is even a saying in old English 'beer and skittles', meaning that a person, about which it is applied is a slacker that does pretty much nothing but hanging out in the bars and shoot bowling pins (understanding under this that he experiences all facets of idle fun – and lots of other people envy this lucky guy). Skittles thus was taken to the ad campaign as a well-established synonym of fun that isn't restrained – just like a rainbow. And you know the rest. Now skittles are candies, pins are what the bowling ball hits.
For the online free games of bowling, if you play it, you have much fun too. All you do is shooting pins to hit as much as possible within one round. Ideally, all. The more you hit at once the bigger awesome fella you are. And you may drink beverages along with that to have the mood on the even high-fun level.

Features of free online Bowling games
- pins are not always classic – they can take any form. For instance, hens. Or ghosts (whilst the bowl takes a form of a pumpkin – and it is designed for the Halloween). Or cute kittens
- while all bowling games have the same or similar mechanics and pretty the same physics, some of them differ. For instance, there are games where a bowling ball more resembling a pinball – as it has to travel a certain curvy way to hit the pin(s)
- it is almost always the same – hit the pins with as fewer bowl throws as possible and the result depends on the power you give to it, precision of the throw, and a bit of luck.