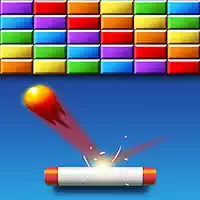 Bricks are one of the most typical simple games. That's why it was logical to create a separate category of online bricks games for free. Here, our visitors will find many instances, which are composed of such options of gameplay:
• Destroying bricks by hitting them with a ball or another object (great examples of that are the games 'Bricks Out 240' or 'Balls and Bricks'). There exist also hundreds of such games designed as downloadable pieces for mobile phones and tablets but our website specializes exactly in free online brocks games and other games, which aren't required the download to be played
• Collecting bricks during track progress and trying not to lose them more than it would be necessary to pass the level (an example: 'High Heels 2 Online', where a lady collects bricks onto her high heels and loses them when encounters some obstacles; so the goal is to have enough length of her heels left when she finishes)
• Characters shaped as bricks or blocks (a vivid example would be the 'Blocky Among Road' game)
• Filling in the lines ('Fill One Line Puzzle')
• Stacking the blocks, preventing them from falling ('Stack Colors!' freely playable bricks game)
• Trying to avoid hitting the bricks of the wrong nature (you must have played an insanely popular Helix game, which is a bright representative of this type of game. On our server, one of such is called 'Helix Jump Ball Blast')
• Collecting rows and figures from blocks of various shapes ('Block Puzzle: Chuzzle Classic')
• Stacking similar blocks with one another so they disappear and give a high score ('Arkacovid').

We have many games with blocks on our website and we try to add new items to the catalog so that your fun wouldn't stop. Check out this collection more often and enjoy free games without download or registration!