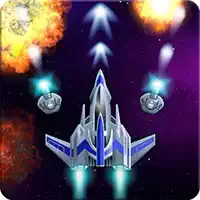 What are Bullet hell games?
What is bullet hell? This is a kind of arcade game, where a player doesn't have a limit to the bullets shot. They are just going and going without stopping, endlessly. All you have to do as a person controlling this non-stopping insanity is to avoid imminent obstacles and shoot your foes to kill them dead. Most likely, after another enemy is deceased, you will have power-ups dropping out of them. Collecting these, you will increase your vitality, velocity, or have a temporary ability to shoot with something more powerful than your current default weapon.
Most often, there are two kinds of goals set in front of a player: to go as long as possible distance, setting another record. Or to complete the level, reaching a number of aims – killed foes, collected items, overcame bosses…
Bullet hell is also called Bullet curtain – as the shooting never stops and it covers enemies basically as a curtain. The main criteria for defining the genre is a hero (manned wheeled or flying vehicle or a protagonist of human shape) going forward automatically as well as his shooting, avoiding obstacles by moving a mouse, arrows on a keyboard or moving fingers on a touchscreen. Very important here is to memorize level and enemies attacks' patterns, trying to make the prognosis, which movement is the better in particular circumstance, as well as the agility of fingers is also of high importance.
One of the first games of the genre was 'Space Invaders' – a very simple but effective 8-bit shooting game that depicted the spacecraft attacking a number of still obstacles and moving foes in order to complete levels.

Features of free online Bullet hell games
- agility of fingers – or rather a player's reaction on changing circumstances
- dodge a fire of an enemy is a must if a player doesn't want to end his life on the level
- sometimes, it is hard to cope with the power of the given arms (that a player usually collects as a dropped power-up), and losing/winning a level depends on whether a player can cope with this power-up on time and within the dedicated efforts properly.

Fun with online free Bullet hell games
'Omicronian' is the game that uses completely classical style: shooting done by the spacecraft that flows in the unrestrained volume. Classical power-ups, foes, and shooting…
'Zombie bullet fly' is a rocket launcher into hordes of undead that come on you in 4 rows and you have to kill them all dead unless they'll break through.
'Stickman Shooter' is the same never-ending bullets thing only with really simplified graphics.
In 'Ben 10 Dragon Blaze' a person is flying on top of a green dragon, which gives unstoppable flame throws that must deal with various flying obstacles (including bosses).