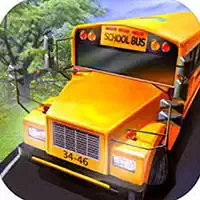 The first-ever bus was invented in 1830 in the UK (powered by a steam engine). The first-ever constructed bus driven by horsepower was in Germany in 1895. Today, buses are common and it is hard to imagine at least any mainland country, which would not have buses to deliver people from point A to point B. Although we do acknowledge that some island countries well may not have any buses at all — simply because they might not have roads, or they are too cliffy, corally, or poor to have them.

Typically, buses accommodate 10 people and more. The biggest bus that has been ever made is called Neoplan Jumbocruiser and it can accommodate up to 170 people at once. Regular buses are much more humble than that, usually carrying 30-50 people. Although we do have large buses in the free bus games category, they are not as huge as Jumbocruiser. And, you know, a bus like that needs significant space to operate, which's why not all roads are suitable for it. But you definitely can suit yourself with our online bus games for free, picking something exactly to your liking.

The biggest part of online bus games to play for free is about your skill of driving and parking in various circumstances. The better you do it, the more points you earn on a level. Because buses are traditionally large and bulky, it takes the skills of a driver to operate them properly. Mainly, the feeling of dimensions and knowing, which roads are suitable for that bulky vehicle (and which are not). That's why bus drivers receive a driving permit of a special category because it is nearly as hard as driving a jumbo-size truck.

We don't have a lot of recognizable characters in the online bus games played for free but still, there are a few: Subway Surfer, Baby Hazel, Disney Princesses, Squid Game, and Among Us.