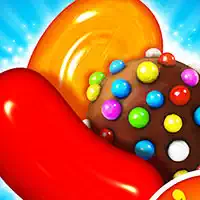 Buzzing Candy crush games
Candy crush or crash online free games are the genre of the easiest and funniest of all existing. At least, we think so. What are they about? It is the thing that everyone loves – collecting rows and columns of candies or other items that are falling down or appearing on your gaming grid. When you collect three or more in a row (or another shape – depending on rules of a particular piece), they disappear, bringing you some points into a piggy bank.
The mechanics can vary but as a rule, the basics don't change and we'll tell about it below.

What is cool about them?
- the normal amount of points is received when one and only set of collected candies (or other objects) is eliminated and the bigger amount of points is given if several batches of them are killed one after another, especially when the power boosters are used
- colorful ambiance and nice sound accompaniment makes the mood airy and easy
- in long-playing free online games, in which a player's progress is saved, each next level (or after a bunch of them), they get harder, offering a player to pass through tougher gaming process, which can vary depending on a piece you play.

Offering ya'll some fun with crush-a-candy
'Candy Crush' and 'Cookie Crush' are the top representatives of their genre. No matter what kind of items will it be in the process – cookies, candies, muffins, cherries, bananas or anything akin – the mechanic is similar. Each level takes about a minute on easiest lower levels and up to many attempts and hours of life on the highest hardest levels.