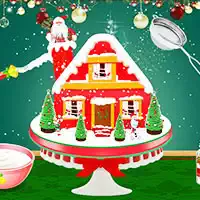 You must have heard a song with these words: 'It's the most wonderful time of the year'. It was written and released in 1963, sung by Andy Williams. Currently, it is one of the most popular Christmas songs ever because it emanates warmth, love, and childish hopes for miracles that happen at Xmas time. That's because people insanely love Christmas as a holiday and as an ambiance that it manifests. We all hope for miracles, actually — no matter what age we are. People also love to play Christmas online games and that's the reason why we have collected so many of them in our Internet catalog.

Here, you'll meet Santa Claus, of course, because Xmas is unthinkable without him. Santa is the main symbol of this winter holiday, which is celebrated by billions (and if to add the number of people who also celebrate New Year, which is just 6 days close to Xmas, nearly the entire planet turns out in the celebration these days). Additionally to Santa and his deers, you will meet such characters in our freely playable Christmas games: Talking Tom and his friends, Teddy bear, Disney princesses (especially Snow White, Elsa, and Anna), Harley Quinn, SpongeBob and other creatures from this cartoon, Baby Hazel, Super Mario, Among Us, Slenderman, Ladybug, heroes of the Kung Fu Panda animated movie, Monster High, Mickey Mouse, Duffy Duck, and others. Playing Christmas online games with these and other protagonists is cool and super fun!

The biggest part of the games is about decorating premises, people, and Christmas trees in the Xmas style. There will also be such games as paint-ups, finding hidden objects, running, driving, chasing, and playing a variety of games decorated Xmas-like (that could be Mahjong, a sports game, an action game, etc.). We just won't have enough space here in this description to mention all gaming styles and ambiances so simply start exploring 'em on your own.