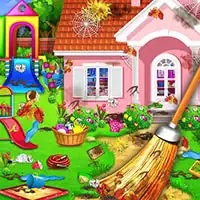 Cleaning free online games
When it comes to cleaning, two main types of games are about that:
- cleaning of a house
- and cleaning of a body.
You can try to bath a Ginger Tom (a friend of Talking Tom) in 'Talking Baby Ginger Bath' or make up the room of pregnant Angela (in 'Pregnant Angela Room Cleaning'), try to bath Dora, Tom, Pou or its baby, some non-specific baby or a baby version of some already know characters like Ladybug, Elsa, Barbie or Baby Hazel.
Purifying your transportation is another thing that can be found in this genre. For instance, you can be a runner or the carwash, trying your luck in 'Lightning McQueen Car Wash', 'Wash Your Car', or 'Washing Salon'. The last one is for bikes too.

Features of Cleaning games played for free
- several levels of the game are almost always an issue
- levels become harder from the point of limit in time or cleaning moves you have to stick to
- investigate your heroes engaged in something earthly, every-day like.

Receiving fun with Cleaning free online playable games
Four main characters are present in the catalog most of all:
- Dora
- Pou and its family
- Frozen-connected heroes
- Tom and his friends.
There are others too, including unknown ones so the choice is here and it's yours.