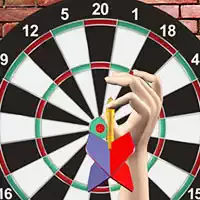 What are Darts games?
Dart is the name of the thing that a player throws trying to hit the aim – which sometimes called a bull's eye. As a rule, the game is played on the score – but not always, as darts may be played just for fun. For instance, many client-oriented bars (in the real life) and chill-out places have darts installed on the wall to amuse their guests.
Maybe it is one of not many games that are played easier in the real life than on the screen of your gadget. Hitting a dart in the dartboard with the real hand, made of flesh and blood is simpler than hitting it with the mouse. Mouse click must be of certain power and acceleration and even the angle of this acceleration matters. However, the biggest drawback that even if stars love you today and you do everything right, there is no guarantee you will hit the dartboard right playing online. That's why you have to train yourself really well in order to learn how to play effectively, saving your nerves.
In online free games, throwing a dart is not obligatory done into the dartboard. Instead, there can be balloons, apples, and people. Especially Trump. You would go insane if learned how many Trump-killing or –hurting games originated since he became the president. Judging based on their quality, he must be the most hated president ever existed on Earth. And as darts games are easy-to-imagine as their dart hurts someone, the creators of this genre simply could not omit such a flamboyant topic as being Trump-darted.

Features of free online Darts games
- there are several dart games in which you can dart a body and face of Trump – heehaw, that's so much fun!
- throwing darts not only in the board – if you get sick of it – but also in the balloons, rotating dude on a wooden wheel with limbs tied to it, and even hitting the dart with moving objects
- boring is not the case – each individual game gives its own version of a board, and the usual one is far not that frequent as it may seem.