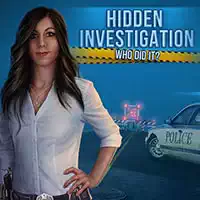 Which games are Detective ones?
You are the detective. Or you are a felony that hides from the detective/police officer that hunts you down. Sometimes a player has to solve puzzles. And not only because it is necessary to find a felony or to escape from the finder if you are the one who's being hunted. Sometimes, puzzles are a step towards better understanding of the case you are disclosing. It may be the case if you are a detective assistant and has to crack one puzzle after another to receive the pieces of an answer that are puzzle themselves. Or something simpler – collecting points making some tasks that bring you closer to the finish.
Any kind of game that has some piece of mystery within can be attributed to the genre.

What may these online free games offer a player?
1. Sometimes, such games can drag a player for longest hours into their depth because they are so attractive – you have to figure out the mystery, thinking and tensing your brain what can the puzzles mean and so on.
2. You can be just a character fighting against bad guys – as it is the case with 'Batman: The Cobblebot'. This isn't so much fun as solving the case from scratch but for lovers of superheroes will do.
3. Escaping from some location is stepping on another path, the dark one, against the powers of the police and detectives.

Playing for free online in Detective games on our site brings you lots of joy
'Pokemon Escape' is the case when you have to cheat the good guys in order to free your character. 'Adam and Eve: Adam the Ghost' is not about the detective – it is puzzle solving, whilst puzzles can be of different complexity. And this all is made in order to scare some kid.