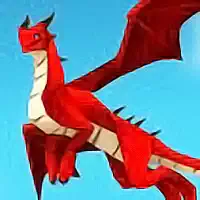 Are you afraid of dragons? Or do you like them and consider they're super cute little monsters? Whatever you'd think of them, this is true — free dragon games are represented in both instances in our collection.

What heroes and characters you'll meet here:
• both types of dragons, good and bad
• their eggs
• fighters who have a 'dragon' word in their names (an example of this is a dragon online game called 'Dragon Ball Fierce Fighting 2.8' and similar ones with that fictional character — he is presented in many pieces in the catalog)
• dinosaurs (since many people believe they are prototypes of dragon creatures)
• dragon-shaped or colored monster trucks and other vehicles, which are cool to watch and play
• lizards (they are oftentimes referred to as small dragons and some of them even officially have that word in their biological names).

As for the types of games in the catalog, they widely vary: from color-ups to action, from street fighters to racing, from quests to upbringing those creatures from eggs and crossbreeding them to make a new species, from riddle-filled games to arcades.

If you'd like to jump to those online dragon games for free, where these creatures are scary, then we can name a few for you:
• Battle Heroes 3
• Dragon City Destroyer
• Dragon Slayer FPS
• Dragon vs Mage.

For their more or less cute options, we'd recommend you start playing these:
• Dragon Planet
• Knight in Love
• D Saga
• Viking Dragons (a.k.a. Viking Escape).

Despite the conventional appearance of those creatures, which includes large size, elongated bodies, huge wings, snake-like necks and tails, and their common ability to create fire in their throats, there are many game designers out there, who skipped some or all of these features, making their absolutely different versions, including something fantasy-based, creating an appearance of a rather quaint bird than a dragon. But exactly thanks to the variety of visual implementations of those creatures, discovering new games with their presence is so thrilling!