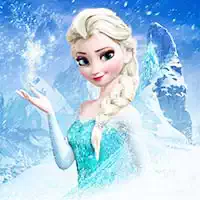 Elsa is arguably the most popular Disney character so far. You know, the Ice Queen.

Long ago, many decades before the occurrence of 'Frozen' Disney's animated film, everyone thought that Ice Queen was evil. You had to try really hard for a long time to find anyone who'd believe that the Ice Queen is great and nice. But everything changed after 'Frozen' — in a matter of weeks, Elsa's charisma, story, voice, and beauty completely captivated the entire world and suddenly, everyone started to be fascinated with her. The Ice Queen was no longer associated with evil because of Elsa — Disney had created an image of a good person who became cold and frozen because of bad circumstances. But she was able to overcome them and warm up her heart and the territory of her kingdom to return the sun and spring. And that change is a signal to everyone — if you change for good, everything around you can flourish.

Along with the popularity of the film and protagonists therein, online Elsa games for free started to appear in large numbers. They very soon overthrew other Disney princesses from the peaks of popularity. That event was helped by the fact that Elsa has a sister Anna, which is also a beauty but does not have magical powers. She is not weaker, though — she is kinder. And because these sisters are so amazingly beautiful, the free Elsa games with Anna or not, have become the center of attention of creators of beauty games, where a gamer has to work with the appearance of girls. That touched everything: apparel, footwear, hats, accessories, makeup, makeover, design of their living premises, castles, and homes; they began to be put in the center of games, which are only remotely about their nature — they started to be runners of holidays, parties, businesses… Since millions of people adore her and her sis, online Elsa games to play have proliferated to tens of thousands. We only have a tiny fraction of such games but that's already a lot.