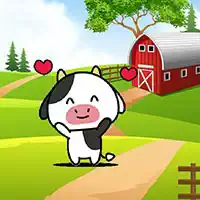 So what are Farm games?
Suppose, it is hard to find a player of online free games who would never play farm games. These bring the most fun – as it is so amusing to gather lines of fruits and vegetables that are easy to be found on your local food market. Or in the fridge of almost every family all year round. But it is true if to speak about the overwhelming majority of ones. Not all of them are about lines collecting. Some farm games are about farm ambiance only – when the gaming process goes there. As an example – you can create a character (a rural girl), selecting one's dress, color everything that can be colored, and then save the result. In fact, dressing up the rural girl is a very popular thing.
Then can be thrashing a farm using some heavy machinery or equipment – just to make it fun.
Then goes running/managing/using the rural place – collecting the crop, finding objects, gathering runaway sheep, building something, grooming the garden beds and so on. Even furnishing your rural house.

What fun is about these ones played online for free?
I. A simple and nice ambiance that doesn't either tense or put pressure.
II. Anything can be inside the genre – shooters, puzzles, line makers, dressing-up, development, and even Mahjong.

What are we offering in online free Farm games?
'Farm of Dreams' is a line-maker, which has bright and delicious fruits, berries, and vegetables.