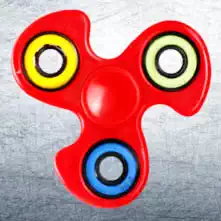 Fidget spinner games – what are those?
Fidget that spins only lately has occurred on our planet as a phenomenon. However, now it is really hard to find a boy or a girl who wouldn't want to have this wonderful time-killing toy or hasn't played it yet. Only in 1-2 years since their first origin, the global sales of spinning fidgets have reached about half of total toy sales in the world (with certain regional fluctuations, of course). This allows concluding that spinning fidgets are one of the most popular toys ever made in the human history.

Free online Fidget spinner games and their traits
Online options of this game offer pretty the same as you can do in the real life:
- spin the toy around its axis
- the toy may have different shapes, starting from the two-ended to multiple-ended
- a gamer may spin it just for fun, to see how they rotate around the axis or reaching some set goals like the total number of spins made within one series of them.

Spinning the toys offered by us are free, online, and filled with fun
'Hand Spinner Simulator' is destined to simulate the physics of spinners as close to reality as possible. 'Fidget Spinner High Score' is for setting scores based on a number of rotations around an axis. 'Fidget Spinner Neon Glow' is to show a player different figures that neon-lit figure provides when rotating. We have more – try them all!