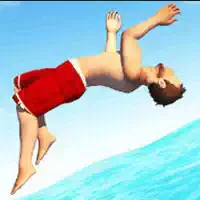 Flip is the round turn of an object or of a live creature to the front, to the side, or to the back, thus, completing a 360° turn. It is also possible to make 2, 3, or more flips during the same jump — that will depend on such circumstances as the available height of a flipper before it falls from the air back to the ground, the velocity and acceleration/deceleration of rotation, and what is the allowed gap when a flipper contacts with the surface (for instance, can he, she, or it land on the bent knees or soft mat to complete the flip).

Flips are acrobatic elements of track-and-field athletics. In our flip online games, they are made not only by humans or other anthropomorphic creatures but also by various objects. For instance, in the game 'Flip The Gun', a gamer has to shoot from the gun very precisely to make it stay in the air thanks to the energy of shooting. The idea of that flip free game is that a gun shoots and the energy of the shot pulls it up. Also, it rotates, so if you do not shoot correctly, making it keep flipping up, it will fall, ending the game. The prize here is a high score.

Other flip games to play for free include elements of flipping but are not purely concentrated on them. That's the case in the 'Super Hero Flip: Spider Stickman Hook', where the protagonist swipes on the rope and flips only when it jumps from one rope to another (or to some object).

Flipping might also mean changing the sides or trajectory. That's the case in 'Flip Hero', where you suppose to lead your hero through the level, flipping its movement from left to right and back to avoid hitting the spikes, which kill immediately. That's more of a reaction speed test for you.

The pure fun of flipping is beheld in the game called 'Flip Diving'. In this flip online game, you shall flip during the water dive jump to make it perfect. That's not that simple but how visually attractive that is!