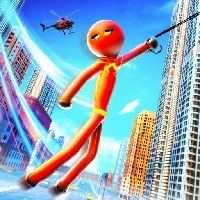 Flying is usually done on planes, helicopters, jets, rockets, air balloons, and on spaceships. But that's not the entire variety of flying options because free fly games also give our gamers a possibility to fly using jetpacks and other personal flying devices, wings of flying creatures (birds and dinosaurs, mostly), and when you launch in the air something that can fly if you provide it with a physical impulse (for instance, a hand-made paper plane, like in the fly online game called 'Paper Flight').

In this category of games, we have close to 300 pieces of online fly games to play, where you'll meet such heroes and characters that are well-known to you: Teen Titans, My Little Pony, Dora the Explorer, Super Sonic, Super Mario, FIFA football players, Stickman, Among Us, SpongeBob SquarePants, Spiderman, Subway Surfers, Ironman, Ghost Rider, Tom & Jerry, Baby Hazel, The Simpsons, Baby Panda, princesses, and Donald Trump. The latter is not a hero or a character — he is a former US president but he had become popular because of his bright appearance, recognizable hairstyle, and the way he talks. Also, he is an odious person with a controversial way of living, which is a proliferous ground for making various gaming protagonists (or antagonists).

Other options of flying in these freely playable fly games are represented by the superpowers of those characters, which can fly without any obvious physical properties that enable doing that. For instance, when people just take off and fly around without wings or anything like that, it is called a superpower and is frequently used in various comic books. That's because people have always wanted to fly and it is one of the most sought-for abilities everyone strives for. Now, you can fly, too – with our fly games. At least, on the computer screen.