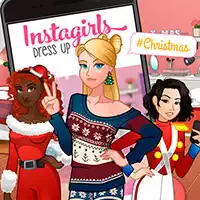 NAJOX have the best online games for girls!

Online games for girls is by far the best place for a girl to spend some free time having lots of fun!

Whether you like shopping, cooking, drawing, taking care of animals, or you just want to play with your favorite characters, you'll find exactly what you're looking for — and more.

Our site has 100's of games to suit every taste — choose the most exciting one and play for free!

Your favourite character is…?

Have no idea who your favourite character is? Feel free to try them all!

Here you'll find games about hairstyling, health, cosmetics, kitchen, — too many to mention.

Feel like being a princess today?

No problem! Become boisterous Elsa, Jasmine, Ariel, Merida, Rapunzel or any of their friends and get into trouble!

Nothing here is boring.

Get ready for one of the most adventurous journeys of your life, girls!

Even better, get your friends to join you - remember two's company!