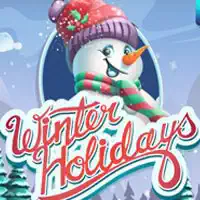 We all love holidays because of their many positive traits:
• a possibility to meet with your family or friends for several hours or for days
• a chance to remember the places where you grew up or where you lived for a long time — if you go to these places to meet people you'd like to meet
• an opportunity to have fun while playing games, visiting cafes & restaurants, spending time outdoors, buying something good in holiday markets
• being imbued with the holiday spirit, which is felt the most during Christmas and Halloween because they demand the most decorations and costumes (or nice apparel)
• a chance to wear some new outfit or make a new makeup and hairstyle to change something in your life
• finally, you get away from the grayness and boredom of the same-looking working days, which basically bring you nothing but money to live and experience in your craft.

When we play online holiday games, we recall and perfectly reconstruct the spirit of holidays. Since there are many of them during a year, it is possible to select from our list the one, which you would like to be a part of the most. Also, there is one special holiday for every person on the planet: birthday, which does not have a specific pattern of celebration and thus, people enjoy it quite differently. Surely, some spend it not as a vacation but in their workplace but there is a way out: to have a mini-party in your working place with colleagues, which are considered the 'second family' by many. There is another way out, actually: to play free holiday games, which is perfectly possible on your phone or laptop basically, in any place where there is the Internet.

We hope that the collection of freely playable holiday games can imbue you with the right spirit, where you can explore yourself deeper, change the ambiance, makeup, and style of pastime.