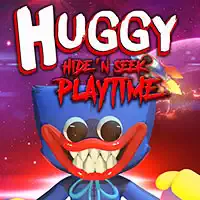 Huggy Wuggy is a character of all online Huggy Wuggy games playable for free and for money on various platforms. Our website always remains free of charge and open for gaming 24 hours a day, all days of the week, all days in a year, without days off. You as a gamer also do not need to download or upload anything to play on our website, would it be a free Huggy Wuggy game or any other game.

A Huggy Wuggy is a scary doll, which was designed and first introduced in 2021 with the first chapter of the game called 'Poppy Playtime'. Later on, he was in the second installment of the game in 2022. The game is playable not just as a Huggy Wuggy online game on our website but it is also made accessible on Windows, iOS, and Android.

The character is a blue or gray furry doll with a scary appearance, which has a moon-shaped head, very long extremities, a relatively small body, and a nearly absent neck. His face is composed of large eyes with nearly the same large pupils and a scary clown-like mouth with a red contour filled with sharp white teeth on the black background. His friend Kissy Missy looks the same with the difference in the color of her fur (pink) and her mouth can be shown in a smile, not specifically open to show teeth. Both Huggy Wuggy and Kissy Missy are considered villains. Yet, occasionally, they are helpful to others and people, especially in various spin-offs, which show these characters in circumstances different from the original game.

Huggy Wuggy also has another name: 'Experiment-1170'. It is the mascot of the fictitious Playtime Co. company of toys, as well as its most high-selling active. At one moment, it becomes alive and starts being a threat to humans, which explore the abandoned factory of Playtime Co. He is a predatory monster, which consumes the flesh of people.

Because of the large popularity of Huggy Wuggy online games, a horror film is planned to be shot based on their variety, which will deeper explore the fate of the toy and the factory, where it was created. The date of the film's presentation is unknown but it can be 2023 or 2024.