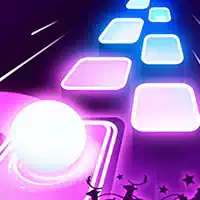 The genre of online hypercasual games to play for free is relatively new, as it appeared and gained traction in 2017 (5 years ago prior to writing this description).

Hypercasual (a.k.a. hyper-casual) means ordinary, day-to-day, or occasional. That name refers to mobile games and those games playable online on other devices that are connected to the Internet, usually for free. They have a very simple and sometimes even absolutely simplified gaming interface, without any redundant details, no abundant graphics or colors, and without a particular development or sophisticated economy of the gaming ambiance. They may be 3D or 2D and their most common characteristic is that they are looped, so hypercasual online games may be played infinitely. At some point, all and any possible advancements that gamers can receive within such games end, and the looped gaming cycle repeats without further development of any in-game rewards or qualities of the protagonist. Thanks to their utmost simplicity and looped nature, they are highly addictive and millions of people all over the world play them on their devices on a daily basis.

We offer you to play online hypercasual games on our website and enjoy their main features:
• free-of-charge process
• no need to install
• play as much as you want and at any time, when you find it suitable.

Since these games do not require an installation fee or a playing fee, they are sometimes filled with ads, which are shown when you have an online connection. Since our website is Internet-based, such a connection will always be on. So, in order to gain some in-game reward (a.k.a. booster), a gamer is offered to watch an ad. But if you gain a significant advantage compared to other players (if a game is multiplayer), then watching an ad is helpful. So, come on, try on right now!