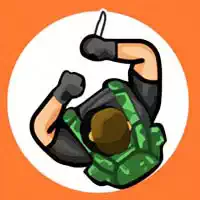 What are Killing games?
If to put it frankly, all games in the world can be divided into three big directions: shooters, racing, and development games. Sometimes they are combined and intertwined. And more genres derive from them, of course.
But let's move further. After any more or less substantial consideration, it is possible to conclude that almost every shooter game is about killing. Despite the fact that only a few were marked as ones on the site, any shooter, hunter, arcade, and even floor jumpers are games of killing. You have to kill your enemies to make your way through, up to the level's end. Even when you shoot ducks flying away from you from thickets of bulrush, you also make a killing.
The only exclusion from this rule will be eye-precision shooting online free games where you try to hit some abstract bulls-eye. Without deprivation of someone of their lives.
Anyway, it is hard to tell, what is the exact difference between shooting games and killing games if to exclude from the list eye-precision shooting.
The main hero in this genre can be anyone (or even anything) – any controlled hero starting from easy-to-comprehend military guy(s) to some robot or other machinery that shoots, ending with some rather abstract than real Stickman and akin.

Features of free online Killing games
- a player definitely has to kill someone to make it through the level
- lots of weapons of various shooting power
- very often a weapon requires to be developed to make the killing easier, more productive or faster
- it is almost never about some major script line – and so thinking here is rather unnecessary
- a player may be required to have a good reaction speed and fingers agility among all other traits.

Fun with online free Killing games
If you are a lover of various shooters, you might have already encountered at 'Strike Force Heroes' part 1 and further parts on our site. Simpsons will surprise you with their ability to kill from Tommy gun and other weapons. There are, of course, many pieces about zombies as well as the Stickman – the latest character, as we guess, can literally stick to any game.