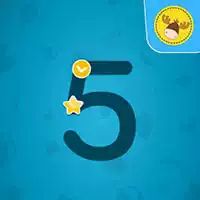 Learning is exceptionally fun, especially when in the process, you discover how gorgeous and diverse the world is, what its landscapes and shores are, what flora and fauna it has, how far it is to the stars, and so many other things, including mundane ones: washing a car, cooking, doing medical interventions, learning alphabet thanks to eating an alphabet soup (the one that contains spaghetti shaped as letters), or doing mathematical operations.

Thanks to many freely playable learning games that we now have in our immense catalog on the Internet, everyone can start learning with fun. Playing them, you'll find out about:
• cooking and having dinner ('Cooking Burger Making Chef' & 'Baby Hazel Dining Manners')
• coloring ('Color and Decorate Dinner Plate')
• alphabet ('Candy Land Alphabet Letters', 'Alphabet Memory', and 'Alphabet Soup for Kids')
• school classes ('Mini Town: My Unicorn School')
• counting and doing math ('How Many? Counting Game for Kids', 'Fun Learning For Kids', or 'Number Jump: Kids Educational Game')
• our environment and the world ('Baby Hazel Learn Seasons' free learning game, 'USA Map Quiz', or 'Baby Hazel Earth Day')
• drawing ('Beautiful Line', 'BTS School Bag Coloring Book')
• visiting a doctor's office ('Hand Doctor Game')
• connecting dots using numbers as your guides (like in the game 'Point To Point Happy Animals'), etc.

After having played these games, you'll understand that it is fun to learn new stuff. Or, if you're a parent of a child, then you can endlessly and freely use our learning online games for your kids because a lot of things are collected in one place. That's a learning approach that children love the most and which is far not always represented in modern schools.