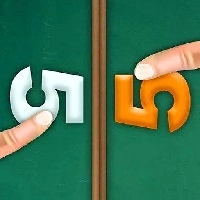 Oh, we love math! It is thanks to math, that it's possible to make calculations, like addition, deduction, multiplication, and division. Math shall be studied from a very young age (or otherwise, how could someone start learning how to count?). Children usually start showing their interest in counting in 2-3 years. Some might show later, but general simple numbers and such simplistic math operations like addition and deduction shall already be finely known to them in 3-4 years.

To make it simpler and more fun to learn how to count and make those four basic math operations, many freely playable math games were invented and placed on our website by our content managers. In the form of a nice and friendly playing process, it is amusing to add and deduct numbers, which are not made hard, so the free math games fit children of all ages. During the simple and happy education that is made possible thanks to this catalog, kids are helped by various characters like rabbits, ducks, Talking Tom, dogs, cats, and other animals (because kids love animals, you know).

Some part of the online math games to play for free is submitted in the form of a quiz. That is, a player is not directly asked, for instance, what will be the result of adding 2 and 6 but given the answer options — because clicking on the right answer is easier with a finger or a mouse than using a keyboard to enter the correct number through the textual input. The math test is not only about the simplest operations for beginners but also for the middle school grades, for instance, 125 divided by 5. Or make 56 using a string of numbers from the available list. So, all in all, these free math games show that math does not have to be boring when you're falling asleep sitting with your textbook — the fun gaming approach solves it!