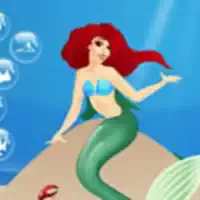 Some features and in common traits of Mermaid free online games
Mermaid is a type of mythical underwater creatures that have the upper part of the body as regular people have but the lower, starting usually somewhere from the navel, is the fishtail.
This type of online free games includes all the same that any other online free genre can embrace when it comes to the heroes: they are put in various circumstances and ambiances:
- creating your own mermaid, editing appearance of it or one of its friends (this is the most widespread type of such games)
- sometimes, protagonists don't have a tail – having legs instead. Then, the option of possessing a tail is a not must-be thing and can be detachable
- if not dressing it up or creating, you will be a hunter for some objects that are occurring in the water
- you can try to turn Disney princesses into mermaids – to see how will they look like
- building an underwater city or some part of it
- having fun with friends of these underwater creatures – like Flounder (from Disney's Ariel)
- a puzzle to solve
- a floor runner and other types.

Mermaid games played for free with us
'Rainbow Mermaid' is a simple clicker to change the appearance of one – and after you are done with this little number of presented options, it all culminates just simple – your protagonist swims to the guy sitting on a shore. That's it. Hugely girlish stuff.
'Mermaid Melody' is also about changing clothes and accessories. Only this time this underwater creature is drawn in manga (Japanese) style. Well, specifically for Japanese girls.