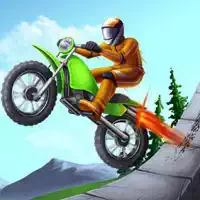 We have a very similar category of online games in our catalog to this one, which is called "Motocross". There, a player is offered to play motorcycle free online games that require him or her to jump, make stunts, gain high speed, and do other things, which are connected to motocross. This category, however, although similar, is somewhat different: bikes are not just about stunts and speed. They are also about:
• creating one in a workshop (from scratch or tuning an existing one)
• gathering jigsaws that might have bikes, girls, cars, and other items in them
• riding for fun, not for time — to behold the track's surroundings, for instance
• seeing the slideshow of cool pictures.

Definitely, these two categories share one common thing: riding for speed. This is cool, this makes wind not just blow or howl but piercingly whistle in your ears (especially if you do not wear a helmet, like real bikers do).

Is your most bedazzling and want-to-have desire connected to speed? Then you shall definitely have a motorcycle in your garage and play motorcycle free online games! In this category that we have collected specifically for you, our dear friend, you can meet some of the well-known heroes and characters as gaming protagonists: Santa Claus, Batman, Super Mario, Blaze, Sonic, or Homer Simpson. However, the biggest number of represented motorcycle games to play for free has unknown motorcyclists, which are not the main attention point in the games — but their plot, speed, or stunts are.

During the process of playing, you will meet games with various designs and quality of graphics but their most part is optimal for low-profile computers, so they are playable across all modern devices. But because some games might be slightly more demanding than others, you might want to consider having a more powerful PC to play smoothly.