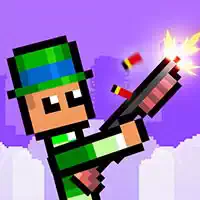 Freely playable pixelart games are not always about art per se: they are just about the pixelated nature of graphics of games. Because many game designers are aware that the more primitive a graphic is, the more people would be technically able to play their pixelart games, they still create games, where the design is simplistic and where there are no particular demands to the powerfulness of the gaming device. The result is manifested in the pixelart games.

Playing them, you can:
• build constructions from blocks, which could be pretty much considered the pixels of the entire structure (an example: 'City Blocks Game')
• guess the right positions of images to point at them to win (the game 'Pixel Memory')
• play sports ('Volley Random')
• run for fun or for adventures ('Bloo Kid 2' or 'Fruit Adventure')
• shoot, kill, and make war ('Pixel Smash Duel', 'Pixel Battles', or 'Noob Adventure')
• paint by colors ('Pixel By Numbers') or based on your imagination ('Pixel Color Kids', 'Pixel Coloring Time').

Some of our readers might say, 'Hey, everyone today has a powerful enough device to play even very demanding and cool-looking games!' That's not the entire truth: only about every third person on the planet has a smartphone, and another third part uses regular button phones or stationary phones. And the rest do not have any phone at all. Some of those who do not have smartphones to play pixelart online games have computers or laptops, indeed, and can play on them. But don't forget that a large part of smartphones is old, which means they do not support technically the opportunity to play a lot of games, but only the simplest. So, the rule of thumb stays viable: easy and simple games, like ones with pixels, are still popular among the population if a global picture is considered.