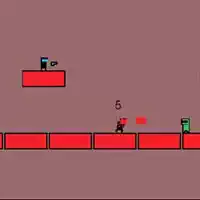 Platform games a.k.a. platformer online games, are the ones, which possess several characteristics:
• a gamer has to control his or her gaming character attentively, promptly, and skillfully
• the character progresses through the levels on an uneven terrain filled with obstacles, pits, and foes, making jumping, running, falling, climbing, hooking, dashing, or gliding
• the character can be killed or injured, so it is of utmost importance to keep it away from encountering obstacles, falling, or facing various enemies
• a player has to show their best skills (including the speed of reaction) to stay within the level and do other applicable on-screen actions (like killing enemies, avoiding receiving too much damage, collecting coins, etc.).

The name of the genre is given by the gameplay: in the first free platformers to play, the protagonist had to move (run, climb, and jump) between the platforms, which were suspended on different levels. The arcade game Donkey Kong of 1981 is considered the first-ever game of genuine platform type, where all modern elements of these games were presented (although sometimes, the game Space Panic is named so as well). Donkey Kong was a one-screen game while the biggest share of modern online platformers playable for free has either a moving screen that never ends or a sequence of differing screens, altering as the gaming progress goes through the terrain.

The issue of a protagonist doesn't matter: it can be anyone and anything (a person, a monster, a car/motorcycle, an object, an alien creature, something bizarre, or even a simple geometrical object). With this catalog, we give you a proper choice of freely playable platformers so you could pick, what exactly you like on the list.