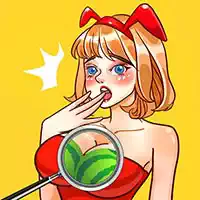 The online pointandclick games to play for free in our catalog represent those, where the gaming progress is made by pointing a cursor of the computer mouse (or tapping and swiping a finger on the screen) onto some object or area and then clicking it to make an action or unveil what's hidden. An excellent example of unveiling is the pointandclick online game 'Brain Story: Tricky Puzzle'.

Other opportunities in these entertaining pieces are:
• matching objects (like it is implemented in the game 'Pets Match 3 Game')
• building or destroying blocks ('Candy Blocks')
• making it through ('Hopscoth Survival' or 'Squid Game Piano Tiles')
• solving puzzles ('Mysterious Password Forest — Autumn Edition 2' )
• searching objects for fun ('Find Easter Eggs' or 'Find The Candy')
• playing nonogram (paint areas by numbers or colors)
• escapers and rescuers ('Rescue the Bunny', 'Kick The Dracula', 'Rescue the Tribal Woman', etc.).

The freely playable pointandclick games will make you train the skill of precision because, unlike many other online games, these require only one or a very limited number of clicks, which must be very precise and/or very timely. Analogically to precision, the connected skill of being on time is also trained while playing free pointandclick games.

These games do not have a lot of significant characters involved or made as their protagonists but still, there are a few: Om Nom, presidents or dictators of a few countries, Squid Game, Minecraft, and Dracula. There are many games without anthropomorphic protagonists at all (those looking like humans or animals with human traits).