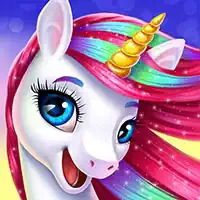 What do we offer in traits of Pony free online games?
Ponies are only loved by girls, not boys. If you disagree – then show us at least one boy who would tell you directly he loves ponies. This fact does not make them less appealing as heroes of online free games.
Consider the fact that this is the sort of the genre, in which there is no place for ugliness. So everything will be stunningly perfect and attractively colorful. Whatever game you take – they are all so:
- 'My Little Pony Hairstyles' offers a player some astounding hair color, which you can endlessly change without making a harm to your hair (as you will practice it on the online character)
- 'Magic with Fynsy: Twilight Sparkle' is for the littlest players with super-cute guy pony named Fynsy wearing a suit and having an extra-cool hairstyle
- 'Rainbow Pony Real Haircuts' – is for those, who hate seeing haircuts on people (because got tired of all those usual pieces of online games) and want to try it on the other, fresh character – in this case, on a pony with hugest eyes on its blue face
- 'My Little Pony Winter Fashion' is about changing their clothes for the winter season, including accessories and a hairstyle.

What Ponies can do in this genre?
They do not do much – only they are super pretty creatures, giving you out 200% of awesome appearance.