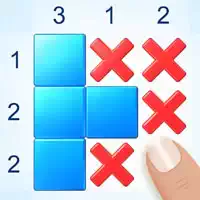 Puzzle online games are fun because they make the brains tense, which adds to their development and staying in the shape. It is scientifically proven that when a person uses their brain actively every day, he or she has much more chances to live to the old years with a clear mind and brisk thinking than if they do not use them actively, preferring not to think about serious and hard things.

So, the free puzzle games are exactly about such development, allowing every interested user to come to this page when they have a spare minute and play any game at their discretion. Puzzles perfectly fit the purpose of giving tension to the brain, no matter in what age you are (we have games for any age category of our users). Here, you can:
• work with numbers, like doing mathematical operations or drawing something by numbers
• collect pictures in jigsaws
• find the differences among pictures or try to find the hidden or unusual objects (for instance, in the freely playable puzzle game named 'The Unique Insect', you ought to find a differing insect, as well as in the game 'Find Unique Chick', your task will be to tell, which chick is different from others)
• combine pieces in a way so as to make them whole
• work with money (like in the game 'Money Detector', which represents various currencies of the world, for instance, Polish Zloty)
• challenges with various objects, including emojis or cupcakes
• coloring things as you wish or to match the intended colors.

The biggest interest of intellectually advanced people is in finding hidden objects and differences between pictures. Although this is not the case with this page but there also exist advanced games to find the differences, which contain not two but three and more pictures at once — that's a hefty challenge for the brain!