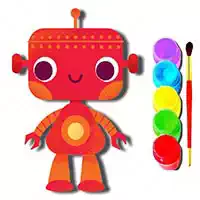 What are Robot games?
Online games are becoming increasingly often about robots. In them, robots can be the main heroes – for instance, big walking war robots that you develop through missions. Or robotized dragons, which you clash with other to capture the entire map or spread your reign on an endless world. Or a girl fighting with big massive robotic creatures. Or a guy making his way on a jeep car through endless hordes of alien robots-invaders (like in the 'Mad Day 2'). Or you build a city of robots. Or you are a robot that is walking through the robotic city to collect stuff and make it through levels… Robots also can be antagonists and helpers – basically, there's no bad role for them, you know.
There are so many options for games where robots are used and they are insanely diverse in genres, graphics, plot, heroes, and the year of release. It is easy to lose yourself in this online and offline diversity. Whatever goal is yours, plying robots is always fun and exciting. Specifically taking into account that such online free games are often made to rejoice you with quality and bright graphics.
These online games are one of the most innovative. Sometimes they are based on films you already know well. Transformers, for instance. Other ones are not connected to any existing Hollywood oeuvre but give a lot of fun too!

Features of online Robot games
- nice graphics that gradually improves though years
- variety of subgenres and a high degree of improvisation by game creators as this is such a fertile ground for innovations
- almost always simple gameplay that takes a little planning but gives in return a lot of fun.