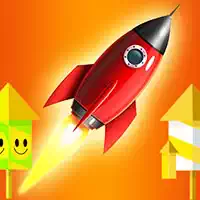 What are Rocket games?
Rocket games can be of two types:
- shooters that use the rockets as the weapon, shooting with them into enemies or the obstacles to complete the level
- space rockets that a player uses to run higher and higher into the atmosphere of Earth or some other planet.

The first case can be of any type: zombie shooter, people hunter, army shooter, launcher of rockets from various sites like, for instance, from a tank, from a car, spaceport. In addition, anything can be a rocket either (besides the weapon made of steel): a turtle, a man, penguin…
The second one, as a rule, includes many sub-goals that a player has to reach. For instance, collect coins, avoid hitting the obstacles, reach the progressive checkpoints and so on. The bottom line is to set the altitude records or to fly away from the atmosphere of the planet. The sub-sub-goals are also possible like buying more technical advancements for your rocket and so on.

Features of free online Rocket games
- if it is a shooter with rockets, then the player may have the goal like to kill some amount of enemies to complete the level or move through the required minimum length shooting everyone to the right and to the left
- in the case of launching anything, this can be a space rocket that a player has to develop and hit other goals. This also can be launching of not a rocket but a penguin/turtle/any other living creature just to see how far it gets, setting the goals of the distance. The sub-goal of such living-creature shooting may be also hitting something to get it down
- in such games, a very little attention is required from a player but this isn't the general line.