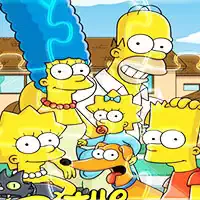 Simpsons as a game that may be played online for free
The Simpsons genre is about the Simpsons family that is wildly popular. It is the most long-going cartoon series in the history of TV business (with 29 regular seasons having been airing from 1989 until today by Fox with 639 current number of episodes). It has given the hugest legacy to the world and it is really hard to find a person in the country that has TVs in homes of citizens who wouldn't have heard about the Simpsons and their family. Thousands of other movies, TV shows, online sites, and media place cites on the words, ideas, and images from Simpsons. Well, to put it shortly, it is the most influential thing on a TV and it sits strongly in everyone's brains.
So no wonder it has tons of online and offline free and paid games everyone should try.

Features of Simpsons
- united by one or several heroes, as a rule, main ones, the Simpsons family members, but there are exclusions (and auxiliary characters can be also enacted)
- online free games with Simpsons can vary in the genre and be: shooters, seekers, 'Who wants to be a millionaire?', puzzles, runners, items collectors, dressing-ups. The most tribute, as for us, deserve those games in which you can create your own Simpsons-styled person combining a number of physical outward traits.

The Simpsons games on our site
'Simpsons 3D save Springfield' is a first-person shooter (and this person is, no wonder, Bart) to relieve their home city from various troubles. It won't be always easy to pass every level and you have to watch not only on your cross aim at the middle of the gaming screen but also your health remnants. However, it is real despite the low-graded level of graphics and allows to have a close look from the 1st person into the homes of Springfield's dwellers, their backyards, and akin.