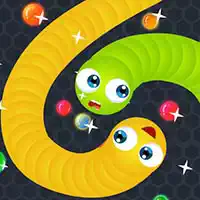 Today, there are hundreds of various snake games (including over 50 of them in our catalog of snake games). Despite their variety, they have all originated from just one initial snake game, which appeared as a game for mobile phones in 1997. It was highly addictive and millions of people all over the world played it.

After mobile phones become better and turned into smartphones, the range of available snake online free games expanded. The games themselves were also updated in graphics, geometry, switched from 2D to 3D, became much more colorful and optimal not only for mobile platforms but also for personal computers. So today, our respectful users can play in our catalog using any device.

You can find such kinds of snake online games on this web page:
1) Snake that destroys blocks
2) Vehicles designed as a snake (for instance, as in the 'Train Snake Taxi')
3) Snake-like creatures, which look like Graboids (the 'Death Worm' game)
4) IO type of games, where snakes are operated by live or computer users acting in the same arena, competing with one another for resources
5) Regular snake game, 2D or 3D, which has to eat pieces of food to grow and avoid obstacles
6) Infinite runners, where a player is a snake (for this experience, try 'Infinite Snake 3D Run')
7) Arcade type of games, where the hero is a snake, not some running dude
8) Ropes shaped like snakes, which would typically require a player to connect dots, make lines, avoid dangers, etc.
9) Composing jigsaws
10) A snake that eats all objects like fruits or veggies to pass the level (there should be no faults to successfully pass).

There is also one more type: Snakes and Ladders. This game is actually much older than a mobile snake and it appeared in ancient India in the 2nd century of modern history, which is the 2nd century AD — the years between 200 and 300.