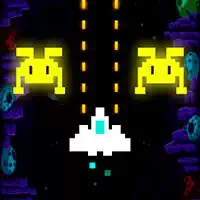 What are Space games?
One of the first games ever created were space shooters, with a spaceship made in 8-bit graphics shooting some colored balloons or enemies. But if you aren't from the generation that remembers this game and you play on smartphones exclusively, then you must receive some more information about Space games genre. Today, there are a lot of games for PCs and PlayStation with fabulous graphics, high resolution, and amazing special effects – so, it is better to play ones on such highly productive gaming devices. But there are also good online free games to play either. Much reduced graphics is counterbalanced with a bigger number of levels and options for the development of your spaceship. Or a hero. The number of levels may be indefinite or of a very big number and the simplicity is a cornerstone here.

Features of online Space games
- the planning will take different time from you depending on the complexity of each game but if this is just a clicker – than all you have to do is click to play
- the graphics is very shortened in online free versions compared to PCs and PlayStation's ones so do not count on anything amazing or too advanced.

What we offer in Space games online
You have a possibility to build your own space rocket to fly on Mars in 'Space Frontier Online' and feel as Batman struggling with hordes of enemies in 'Batman: The Brave And The Bold'. Other space games, which will be added to our catalog with time, will bring you even more excitement.