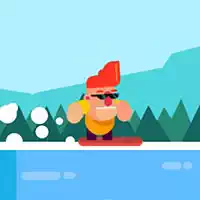 What are Surfing games?
Surfing is not only about waves and the beach. There is a hero called Subway Surfer – a young smiling boy with a pleasant appearance. He has brown eyes and always wears a baseball hat (except for maybe one game that is dedicated to his hairstyling). So what does he surf? It is about going through subway/train/park terrains ducking and jumping when necessary to overcome obstacles. As the hero in the classical version of this series of games is centered to the screen and the surrounding terrain changes (to depict he is running forward), it seems like he's 'surfing' this terrain. That's the likely origin of the name.
As for the classical surfing online free games, they are about waves and making tricks on them. The ambiance varies – from well-drawn natural-looking sea waves to cartoon-style no-detailed waves on which a player has to be cautious when surfing in order not to fall down. The other options are going behind the tracking water boat avoiding obstacles. Or staying on the wave in a specific way. There's even an air surfer – some dude is jumping on his surfing board on the track that is formed in front of his eyes in the real time.
There are other options, as many sports games that include people, fun, activity, and physical attractiveness have this: you can dress your avatar, changing everything from clothes to the color of the skin and hair. As a rule, this avatar is a young woman of attractive appearance with appetizing forms. The other possible infrequent options are roller coaster surfing or catching surfers being a big nasty octopus.

Features of free online Surfing games
- catching the wave is the most frequent deliberate goal that a player can do – and as surfing isn't pretty much about anything else rather than catching a wave, the biggest thing a player receives from this genre is fun
- absurdly simple gameplay that will not take you too long to understand the mechanics to kill spare time.

Fun with online free Surfing games
Subway Surfer is the biggest surfing fellow represented on our site – from the known characters. It is given with a series that only share the common main hero, whilst the biggest part is even already not about surfing at all.