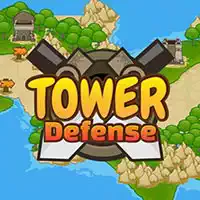 What are Tower defense games?
The name of the game genre tells everything: there are towers that defend you from ongoing enemies. Or – as a particular branching – there is a tower that you have to protect using your heroes. Each protective item has its own importance – and a power. If there are types of towers that prevent a foe from passing the way, it is highly likely they will bear specific type of power aimed at that foe. For instance, these can be a fireball and an ice ball of various killing might. The enemy will test you the round after round, sending more and more numerous squads of scouts to try to pass through. If they succeed and pass ('You shall not pass' – do you remember these words of Gandalf the Gray?), then the player loses and has to restart from the beginning of the last round or even from the very beginning – which isn't so superb. To prevent this from happening, a player has to upgrade his power of defence building new structures or making the already existing more powerful. Money for that comes from the killed squads. The interesting part goes when a player is attacked by squads of medium and stronger power that don't die out immediately – that makes odd for their passage 50/50 in either conditions. Sometimes, there is a big chance of luck to rely on.
So the bottom line is not to allow any foe to pass through.

Features of free online Tower defense games
- building the defence structures largely depends on available resources. The scarcer they are the fewer defence towers a player can build – this is resulting in a proliferate ability to plan and to use available resources with fine planning
- a lot of fun watching your foes die on their way to pass the entire curve line of the road
- constant monitoring of the ways to increase the defense within limited time and toughened squads of attackers.

Fun with online free Tower defense games
'Keepers of the Grove 2' are very alike to "Stormy Castle" in both gameplay, graphics, and the development abilities. 'The Keeper of Four Elements' is much simpler in all the named, whilst this not deducts from its fun capability. The other free online tower defense games are very alike. The worst graphics is traditionally in the Minecraft thing: 'Minecraft Tower Defence 2'.