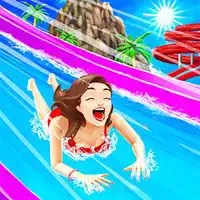 What are Uphill Rush games?
There are many games that require a player to have such skills as eye accuracy or instinct of planning. Well, there is nothing alike in free online Uphill Rush games. They are totally simple and many of them have as max as two keys to make controls (get low and jump high). Some of them have 4 or bigger (including acceleration and vertical-horizontal positioning). But all of them are about pushing buttons a little in order to proceed and the biggest user's influence on the course of a game will be not letting the main hero turn over or fall off. Standing straight, in fact, is what mostly required in such subgenre of online free games.
Sometimes Uphill Rush games ignore the laws of physics and common sense in their gameplay. For instance, in games where the main hero is going through somersaults in the water park or anything else connected to the water, the water itself is not poured over or from even if the track bends under an angle of 90° (as a wall) or even 180° (upside down). Well, this is the only drawback of such gameplay, as these games give a lot of fun minutes and even hours to players.
The essence of this subgenre is simple: a hero must climb through terrain, which bends and twists up and down, has obstacles and much unevenness that slow down or turn the hero upside down. If he is turned, he may receive ether irreversible damage (like losing one life) or some portion of damage, which deducts from his vital powers.