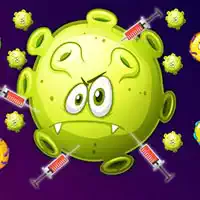 Online virus games to play are composed of several dozen pieces in our web catalog. Amongst them, you will find such well-recognizable heroes and characters as zombies, SpongeBob SquarePants, Ben 10, Ant-Man and the Wasp, Disney princesses, Minecraft, and ninjas. But the biggest part of online virus games to play for free has one protagonist: a virus! It is designed in various shapes & colors and it is differently pathogenic. In order to explore the behavior of the virus (or, in some games, something more like bacteria), we offer you to open the games and start playing them.

We do not require any payment from our visitors to play these games, as well as we do not persuade gamers to download anything on their gaming devices. So your enjoyment is free, non-downloadable (and non-installable on devices, of course, which does not clog up the device's memory), and we also do not limit the volume of gaming time you can spend having fun. Pure advantages, don't you think?

In some free virus games, you're offered to fight the pathogen (for instance, like in the game 'Fight Virus') while in others, your task would be to introduce viruses to hosts (basically, make them sick). An example of the latter is the game 'Sporos'. But, to be honest — infecting someone or something in this game does not feel real — it is more like a two-dimensional puzzle, which is about filling shapes of circles with two, three, or more viruses in a clever way so they fill up all the empty cells of levels.

Humans naturally fear viruses and so the online virus games to play for free are generally about healing, preventing the infestation, and combating viruses (and the consequences of their work). If you're afraid of getting connected with a virus in real life, playing these games on our website helps you work towards your fear and find out, how to fight it when you suddenly catch a virus (we hope that it will never happen, though).