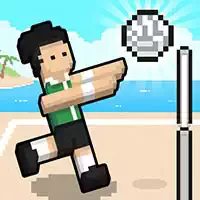 What are Volleyball games?
The same as with any other online free game that uses a ball to hit, volleyball is also can be of two basic directions in the world of gaming online: the standard one and non-standard. Okay, if with the first one everything is pretty much clear, then what's number two?
Everything can change in volleyball online: a player, a ball, a gaming ambiance, surroundings… Let's start with the fact that you can be a crab. Yep, for real – there is a game, in which volleyball is played by crabs. It must be said that in such unusual pieces, the ball mechanics is far not always close to Earth reality – and you just have to deal with it.
The ball can change – we know the games in which its role is played by an animal, by the bomb, a candy, a piece of meat, a snowball, a nut… Some of those are not round, as far as you can see.
There is also an opportunity to dress up a girl to make her a player – change her looks from hairstyle to clothes and accessories. A bonus here is to look at her semi-naked body during the process.
The huge part of variances also comes to players: they can be of any shape and essence: cartoon heroes, animals, funny people or with extraordinary traits (like big jumpers, warriors, Chinese guys, surfers and so on).

Features of free online Volleyball games
- eye precision is not that important (though nobody has canceled it)
- mouse movements are of high importance – as the volleyball has little to do with anything else than with a ball itself and its physical behavior, so the creators of these online free games have tried to do anything thinkable to make it as hard as possible to catch the ball and hit it backward.