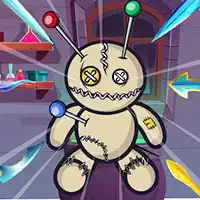 Now, it's not necessary to make a real voodoo doll to stick needles into it. Instead, you can try the Voodoo category of our online voodoo games, where this sort of doll is found (an example is the game 'Voodoo Doll').

But we want you to understand that this category of voodoo online games is not just about voodoo as magic and a cultural stream. It is also about not-so-very-conventional heroes, actions, and gaming ambiances. For instance, the game 'Hole.io' is capable of making you roam around a city or other land to eat every object located on it with a large black hole. It consumes everything on its way — and as it gets bigger, the bigger objects it can eat. Or, rather, attract into its black nothingness — the things simply fall down into it and disappear without a trace. That's pretty much how a real black hole in the universe would do with the matter, as it falls into it: everything disappears in its insatiable gut and cannot be restored or saved when it's captured by its gravity. Surely, we did not have another choice but to place such interesting online voodoo games in this directory, on par with other IO games (which are also tagged as IO, so you can find them in their separate directory, too).

Another great game here is called 'Good Slice'. It is placed in the voodoo category because it also damages the wholeness of objects. Just like voodoo dolls are struck with needles, which pierce them, in the 'Good Slice', one has to cut the objects into smaller parts (that is, also damaging them) to meet the goals of levels (which are usually as simple as cutting fruits into pieces small enough to let them fall into a fruit mixer).

We're ought to publish more online voodoo games in this section soon. In fact, publishing happens nearly every day, when a new game appears on the gaming market. So stay tuned to our updates to meet more fun and great games!