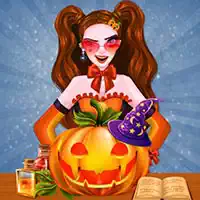 What are Witch free online games?
You might think that witch games are something scary. They are rather not than yes. Firstly, they are about witchy makeup or dress up. Then come cooking and brewing potions.
There are also some arcades: like floor runners or jumpers. After, there are escapers – but they are rather rare. When playing those, you can find that the in common thing for them is making the process in the woods, at the dark gloomy background or at night. Even dress-ups ones use this gloomy ambiance.
Also, you can try to find solitaire or other card games styled witchy and this ambiance is really attractive.

Basic features of Witch games played for free
Nobody told that modern games with witches must specifically stick to the past-century image of them: the old lady as the protagonist. Frankly speaking, there are a little of such games remained – with an old lady. Today, a witch is rather someone young, fresh, devilishly hot, and does not inferior to model-looking girls. As the times dictate the fashion, online free games also have to step at the same pace. So, from the vast opportunities of playing such games, select what's to your liking and enjoy!