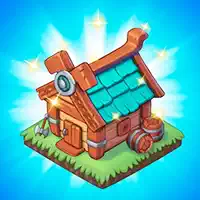 The freely playable world games are about anything that contains the 'world' word or notion in their name or essence. The range of these games spans from defending the world from a nuclear disaster or, vice versa, making it happen (like in the online world game to play called 'Asian War — WW3 Mode Demo') to runners. From word search to sports games. From leaping into open outer space to arcades like Super Mario.

You're able to meet here such well-known characters and heroes from TV shows, cartoons, movies, animated films, comic books, and other parts of pop culture:
• Ladybug (in 'Super Miraculous Ladybug Running Adventure Game')
• Super Mario (in 'Angry Mario World', 'Mario Bros Deluxe', or 'Super Mario Halloween')
• SpongeBob SquarePants (in 'Fun Race — SpongeBob Saga' or 'SpongeBob Cook: Restaurant Management AMP Food Game')
• Famous tennis players from various tournaments ('World Tennis Masters').

Other free world games are not about famous characters or people, they are about a process. For instance, in the 'Happy Family Zen Farm', you have to manage a farm to make it productive (and fun). In the game 'Ouija Voices', you can receive a mystical experience. In the 'World Flags Quiz', you gonna show how knowledgeable you are about the flags of different countries on our planet. For a super duper cute gaming experience for kids, try the online world game for free called 'Mini Town: My Unicorn School'. Some options are about the development to the point when you can call yourself a tycoon — for instance, it is true for the free game 'Sea World Tycoon'. If you'd like to explore the world by its tastes, then the best choice would be to play the game called 'Tasty World: Cooking Voyage — Chef Diary Games'.