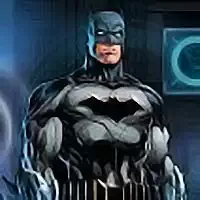 Batman
Batman alternatively known as Bat-man, is a character of the DC universe, which first saw the light in 1939. He lives in a fictional Gotham city, a dark and untidy place, which many people think reminds real-life New York. He drives a Batmobile, action-packed high-tech vehicle, an extremely recognizable car, which helps him fight the crime. Batman's primal goal is to make Gotham city cleaner and he struggles not only with simple criminals and crooks but also a cohort of his huge enemies, which include several hundred names, most notable of which are Joker and Catwoman. The latter also is Batman's largest romantic interest and their relations lasted for years.
Batman is a part of various unities of superheroes, the most notable of which is the Justice League, which, in addition to Batman, includes Green Lantern, Flash, Superman, Wonder Woman, Aquaman, and Martian Manhunter. This character and the Justice League of DC universe are in close competition with Marvel's creations. The two companies compete on all levels: in films, comic books, sales, merch, cartoons, TV appearances, commercial, and animated films.
Today Batman is one of the most notable fictional superheroes of the planet, creating billions of dollars of annual revenue in sales of everything that's connected to his universe and the universe of DC with his participation.
History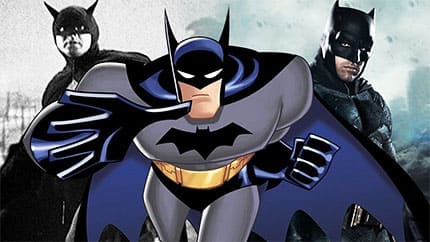 The Batman as a character was designed for Detective Comics, an American comic book, which first edition saw the light in 1937. For the years of its publication history, the book has had different publishing periodicity, from twice a month to 6 times per year. This comic book gave birth to other notable comic heroes, in addition to Batman, such as Robin, The Penguin, The Riddler, Red Hood, Firefly, Bat Woman, Bat Girl, and Cypher.
The Batman is an alias of Bruce Wayne, a super-rich businessman, who has decided to put his money and efforts into crime-fighting instead of idle life on some exotic island drinking cocktails because he is so rich. Batman is supported by a cohort of allies and is pursued by a cohort of foes, which significantly outperform the allies in their number.
The history of this hero is rather simple: he does not have any superpowers but relies on scientific advancements and his own body and brain to stand against crime. He is very strong, though, and able to glide in the air using his large bat-like wings. Some people think that he was bitten by a bat to grow into a superhero. Albeit, it is not true. Another his great (yet, human) power is an excellent mind, which he has as a scientist and thinker. This helps him get wider access to developments and solve various scientific issues. Thanks to the wittiness of his mind, he is a world-class detective, nearly genius. Also, he excels in martial arts (knowing 127 of them thanks to a photographic memory), being at the peak of his physical abilities. Some allies and foes think he is one of the greatest minds on the planet, which is backed by wide knowledge in various fields of data & the fact that he is a polymath and speaks several languages. His brain helped him keep his wealth nearly inexhaustible through not just a few years but decades. To complete his image, we must say he is great to resist physical pain, telepathy, and mind control, as well as he is able to escape deathtraps and be great at espionage. Although all the named are really human powers, it is their level and combination in a single person make Batman completely unique.
Since his appearance in a comic book, he has become one of the iconic superheroes, one of the most recognizable in the world. Many elements of his appearance and powers have greatly saturated the modern pop culture, such as Batman's logo, Batmobile, black appearance of his helmet and bat wings, as well as he has become an unparalleled symbol of male masculinity and irresistibility.
Batman in media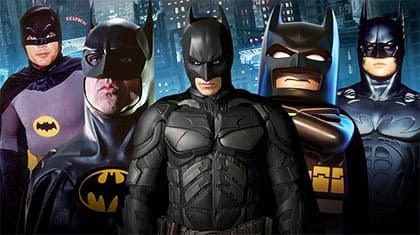 Batman performs in various media creations.
Films with his participation started to appear only 4 years after his invention, in 1943. There are 16 films as of 2021 with Batman's participation as the main or auxiliary character. There has been a gap in production on Batman superhero movies from 1966 to 1989 due to a re-launch of the franchise with reconsidered costumes & appearance. Also, popular Hollywood stars started to be attracted to feature in superhero movies. Famous directors were attracted to make the movies, too: Tim Burton, Joel Schumacher, Christopher Nolan, and Zack Snyder.
Theater runs and theatrical films include various instances. TV serials include 2 in the mid-20 century and 6 more in later years. Some fan-created things were done as well, like Warhol's 'Batman Dracula', which merges the two characters.
Animated series is one of the largest in quantity – there are 50 of them. Every year, starting with 2010, from 1 to 4 animated series appear. Batman also takes part in team-ups: there are over 30 of them. Also, there are 2 web series and 5 LEGO-themed creations. In addition to that, there are over 100 comic books with this hero, many Internet memes that contribute to its popularity, and guest participation in other projects. Batman also appeared in multiple radio events, newspapers, books, foreign comics, novelty singles, musical theaters, and audio dramas. And although some notable participations of this superhero are seen in music, fine arts, and in other people's oeuvres, it is nearly impossible to calculate all the Batman's appearances in the entire world media of the late 20th and 21st centuries.
Official and simple online games with Batman participation
There are 37 official games with Batman participation, 7 LEGO-Batman collaborations, and 6 Batman Arkham games. They were all released over the years for various platforms, including PC, mobile phones and tablets, Wii, Nintendo, PlayStation, Super NES, Sega Mega Drive, Xbox, and Game Boy.
His strength and abilities, as well as the masculine look, the capability of being a good detective, great physical power, and the usage of a swarm of high-tech gadgets, make this superhero a perfect match for various arcade and action games, with Batman in the center of t
he action. Also, Batman is simply pleasing to look at, especially given his dark color and recognizable image. No wonder so many simple online games also appeared, made by an official or unofficial designers and companies. Below, we are looking at the types of these simple games:
• Fighters, runners, and crime fighters make the biggest part of all games of this kind in the Batman universe. They include also arcade games, which are based on passing levels by moving, overcoming foes, and getting collectibles
• The games with Batman who works with other heroes of his or adjacent superhero universes, particularly, with the most popular heroes being Superman, Catwoman, Joker, Sin City characters, and Teen Titans. When he pairs with a Catwoman, often, their romantic interest is bulged out (and the outcomes of it): kissing, going on dates, giving birth to common babies, or doing baby-connected chores
• Riding a Batmobile, a bike, monster trucks, or other cars for speed with or without overcoming obstacles. Commonly, coins or diamonds as in-game achievements are collected. That can also be some truck chase, where a hero has to crash obstacles to get through or simply because of the need to bring damage
• LEGO-themed games
• Saving the world from various disasters, for instance, from a nuclear blast
• Escapers from various enclosed territories, for instance, dungeons, castles, or some underground places
• Shooters – for precision, speed, and general (into still or moving targets)
• Dress-up like Batman using the apparel that suits his style and ambiance
• Jumpers (on the roof, between buildings, etc.)
• Zombie smasher (Batman literally cannot do without zombies, as they make a part of most popular games today)
• Classical street fighters
• Jigsaw puzzles, where Batman-based images have to be collected from pieces into something holistic
• Detectors of differences between images
• Doing stunts on a bike or another vehicle
• Find hidden objects in one of the rooms of the mansion of Batman or in some premises that are Batman stylized
• Playing various games with this character, most notably, football
• Color-ups, which develop the creativity of boys and girls who play such free online games
• Games where a player has to kill Batman by throwing into him various objects like stones (this game is probably made by Batman haters)
• Avoiding being caught by some people who hunt Batman down
• Card and tile games themed in Batman style
• Travelers on planets (not only Earth but also other rocky planets, including ones from our Solar System like Mars).
Batman merch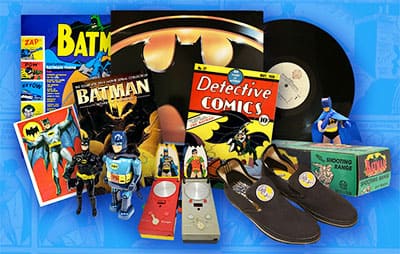 Although DC Company is an official rights holder on Batman and Batman-connected copyright and sells a tremendous amount of official merch, there are thousands of websites on the Internet, which offer various merch themed as Batman The world created by Batman is so large that it is nearly impossible to legally or financially pursue all the vendors who illegally use Batman image (although some of them are in the legal cooperation and pay royalties). The merch pieces include:
• Clothing and apparel (shirts, suits, T-shirts, shorts, socks, sweatshirts, hoodies, hats, tops, boots and other footwear, underwear, swimwear, pajamas, long sleeves, belts, neckties, bibs, coats, leggings, sweaters, scarves, gloves, aprons, skirts, bikinis, and dresses)
• Accessories (rings, chains, watches, buttons, pins, lanyards, earrings, cell phone covers, cuffs, patches, tags, umbrellas, leashes, and money clips)
• Pet products
• Bags and backpacks
• Gifts (magnets, stickers, masks, emblems, air fresheners, can huggers, sunshades, cards, tattoos, steering wheel covers)
• Drinkware
• Kitchenware
• Houseware
• Office ware
• Toys
• Games
• Collectibles
• Books, CDs, DVDs
• Jewelry.
The toys and collectibles include several hundred pieces made of tens of materials.
Today, it is possible to choose a suitable merch themed with Batman for all genders, ages, social positions, for home and office, of all sizes and costs. Such a wide penetration of Batman's character into public life and pop culture signifies him as one of the most money-bringing comic book characters of all time. It is impossible to estimate the total revenues and profits generated by this character throughout the entire time since with such a wide penetration into people's minds, some things simply cannot be calculated. If to consider only direct and accountable profits, they easily jump over 100 billion dollars for all years of this character's existence.
Batman's other notable influence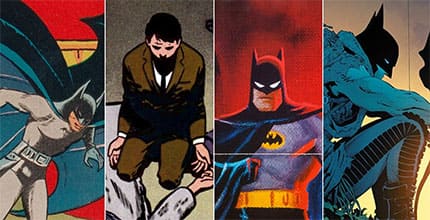 Batman is not only a comic book hero for the time being. He is so deep in the brains of modern people that other things in this world also relate to him:
• Songs and music albums by people affected
• Geographical names on our blue globe (although most of their names are definitely not connected to the comic book hero and rather formed because of natural reasons or names of professions): in Turkey, Iran, the Netherlands, and Australia
• Surnames and nicknames of people; some of which are connected to a bat as a sports tool, not to a bat as a name of a flying biological creature
• The names of court deals, involving the names of participating people
• The names for human inventions (some of them definitely inspired by Batman character): monster trucks, roller coasters, network routing protocol, and army names
• Names of official treaties named after the people with this surname who concluded them. For instance, The Batman's Treaty, the one between J. Batman & Wurundjeri group for the rental of Aboriginal lands in Melbourne, Australia, concluded in 1835. It allowed acquiring 600,000 acres of Melbourne lands from aboriginal people. John Batman was an Australian grazer, entrepreneur & explorer, who had the leading role in the founding of Melbourne.