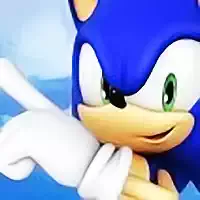 Sonic
If there are really cult characters in the world of games, there should be no more than 10 of them (or about as many) & Sonic (Sonic) is surely among them. Up to 2016, there were confirmed 140 million sales of Sonic games worldwide. As of 2020, the entire number of Sonic downloads on mobile platforms (phones & tablets) was over 1.1 billion. It makes Sonic among the most successful games of all time.
History
The Sonic as a character was conceived by Sega Company to compete with then-insanely popular Mario by Nintendo. It was released in 1991 for the Sega Genesis platform, which is better known with its alternative name Sega Mega Drive. At the time being, this console was one of the world's most popular ones, being attributed to the consoles of the fourth generation.
Since the date of origination, many continuations & spin-offs of the series have occurred. Sonic has firmly entered pop culture & has gained many references in various media, blogs, films, cartoons, books, toys & others.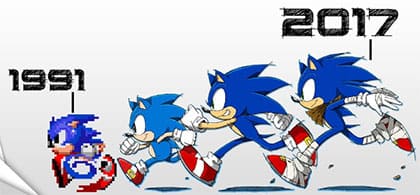 Although Sega was mainly successful with the character at first, things didn't go too well for the company after its 5th generation of consoles, which they called Saturn. Saturn was a commercial failure & caused the entire business of Sega company to shift to the elaboration of games for other companies, as a third-party vendor, including their ex-rival Nintendo & other large console makers, such as PlayStation & Xbox, as their clients. The game & the character, however, were a commercial & popular success, which lasts until today.
Today, 27 official games are known in the Sonic universe with hundreds of unofficial.
Description of Sonic, its world & gameplay
Sonic is an anthropomorphic creature of blue color. Instead of spikes, as real-life hedgehogs have, it has stylized hair-like spikes behind its back & head, which as if brushed back, contrariwise to its point of running. Also, he has large white eyes, which in most depictions of the character merge together without being completely separated. Only some later options of his appearance have divided eyes with a thin nose bridge. The nose end is black, completely corresponding to the appearance of real-life hedgehogs (whilst not eyes – they have small black-and-gray protruding eyes, unlike Sonic). Sonic's belly, muzzle & inner part of standing ears are light brown, nearly similar to the color of cappuccino. Alternative colors are light beige or dusty white. The eyes are green with a black pupil. He has very slender legs & arms. Arms end with white gloves. Legs end with large feet, which are covered with white-and-red running shoes. His body is disproportionally small compared to the size of his head or legs' length.
First designs of Sonic were limited to the 8-bit graphic capabilities, which were common for the early 1990s. After the character's appearance improvement, he has been gradually becoming more detailed & his entire blueness started to have such detailing as fur. This is especially seen in the eponymous movie in 2020. It is also expected that the same appearance of the hero will be transferred to the upcoming sequel of the film planned for 2022.
The world of Sonic is realized in platformer games (a.k.a. platformers). In the levels, it is required from Sonic to get from point A to point B. Doing so, he has to run fast (this largely tests the reaction of a gamer) through the up-and-down slopes, vertical loops & whirling ground, which is turning 360°, 720°, or at other degrees. Sonic also has to avoid falling into bottomless pits & he uses additional elements, which help him run (or interfere with the running process): springboards, springs & dash panels. As the levels are filled with danger & not every one of them can be passed from the first attempt, there are save points a.k.a. checkpoints. The most widespread terrain in classic games is green hill filled with brown & green predominant colors.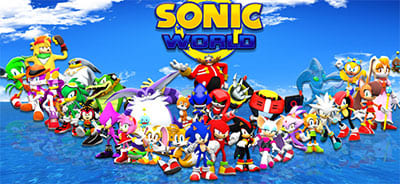 The running progress is supported by various power-ups, which a gamer collects in boxes scattered all over the levels. Every box has information about what's contained inside & getting a power-up is simple by destroying the box by encountering it. The nature of power-ups is comprised of extra lives, high speed, invincibility, shield & rings. The rings are considered a sort of level of health, as collecting 100 rings usually means adding an extra life. Lives are important because the game is designed in a way that it is nearly impossible not to bump at anything (which leads to losing a life in whole or a portion of it). Depending on a specific game, the rings perform another function besides adding life – they can serve as the indicator of excellence through visualizing points of passing the level or serving as an internal currency in the game, allowing buying items & improvements. So, no matter what the goal of collectible items is, the more rings a gamer gets during the run, the better the result will be.
The reason for running is not just to collect something for the sake of collecting or ending the level but to fight Doctor Eggman, which is an evil hero in the Sonic's universe. The struggle with this evil person is supplemented by other level objectives, such as fighting level bosses or avoiding obstacles, which are installed inside the levels by evil minions. Unlike the street fighter type of games, fighting with level bosses here does not require a swarm of buttons on a keyboard or a full-fledged controller – everything is realized through pushing just one button since the focus of the game is not fighting but running.
To fight the final boss of the game, evil professor Doctor Eggman, Sonic has to collect Chaos Emeralds, enough quantity of which allows overcoming the Doctor, leading to a good ending. To find them, it is necessary to find or open portals, where Emeralds are located or finding them during the regular progress in the levels.
Characters in Sonic games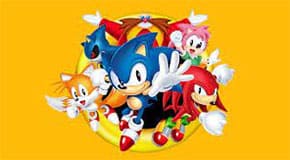 Sonic is the main character, which originally occurred in the first game of 1991.
Doctor Eggman, alternatively known as Dr. Robotnik after the 2020's film. The doctor dreams of overtaking the world but his plans are constantly being destroyed or delayed by Sonic
Miles Prower, a.k.a. Tales, is a yellow fox with two tales – he is a sidekick & best friend to Sonic His name has derived from the 'Miles Per Hour' notion, indicating his high speed the same as the Sonic's name (we're considering this in the section below in bigger detail). The usage of two tails is often depicted in games – he's using them as a propeller to accelerate in the motion during the run. This character started several of its own spin-off games.
Amy Rose is the Sonic's girlfriend (self-proclaimed). Her primal color was red in early designs & she has many other names in addition to the main one.
Metal Sonic is a robot version of Sonic elaborated by Dr. Robotnik.
Knuckles the Echidna. The red-colored friendly rival of Sonic He is the last survival representative of his species & he lives on Angel Island hovering in the air.
Other less significant characters of the Sonic universe include Fang the Sniper, Chaotix, Charmy Bee, Espio the Chameleon, Mighty the Armadillo, Vector the Crocodile, Big the Cat, Chao, Chaos, E-100 series creatures, Omochao, Tikal the Echidna, Shadow the Hedgehog, Professor Gerald Robotnik, Maria Robotnik, Rouge the Bat, Blaze the Cat & dozens of others.
Dr. Robotnik & Sonic were the first two characters in the initial game, with all the rest following them.
Origin of its name as a connection to high speeds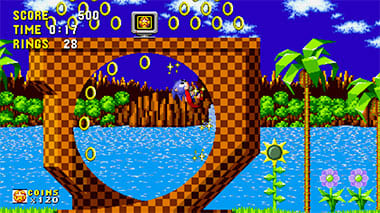 Sonic is the direct pointing at the speed of the character. Sonic speed is the one, which an object has when traveling with a speed bigger than the speed of sound, which in the current atmosphere of Earth with 20° C is considered 343.2 meters per second or 1,236 km/hour (768 mph). In water, the supersonic speed is reached after 1,440 m/s or 5,186 km/h (3,222 mph). Speeds can also become ultrasonic in solid bodies but the numbers will differ for each body.
In fact, the "sonic" is the term, which embraces all known sonic-connected speeds:
• Supersonic (over 1 speed of sound a.k.a. 1 Mach)
• Hypersonic (over 5 Mach)
• Transonic (near 1 Mach – objects are defined to have transonic speed only when some of their parts move with a supersonic speed but the object in its entirety is moving slower than 1 Mach, for instance, the rotating blades of propellers of a plane).
The physical properties of reaching this speed impact the surrounding environment. Particularly, when an object reaches a greater speed than the speed of sound, in the point when it overcomes this speed limit, the surrounding environment compresses & creates the boom, vividly heard to people & animals around. Depending on the environment parameters & proximity of the supersonic object to a beholder, the loudness of the boom will differ. Those ultrasonic airplanes that fly high in the atmosphere (10-20-30 km up) merely create inconveniences or noises to people standing on the Earth's surface. Those airplanes that fly within several hundred meters from the beholder, in rainy weather (or simply in the air with high humidity) create large booms, which can bring pain to eardrums, destruct glass & other fragile objects & even cause small earthshaking. Typically, this boom brings no harm to buildings & structures.
Sonic as a character is depicted as a creature that gains a large speed within a fracture of a second, which creates effects similar to supersonic boom, making the air follow him, with small objects like tree leaves & paper sheets following. The sonic speed is the best description for the speed of the character although, in the games, it is vividly seen that Sonic doesn't actually gain 343.2 meters per second in speed (not even close to it). However, in various visualizations of his running, the effects that he creates with this process may be closely similar to the effects of supersonic movement. It is considered that the Sonic's top speed is 700 mph, which is only 68 miles per hour slower than the threshold of supersonic speed. Some sources, though, tell about the speed of sound as his top speed. However, there is a state of Sonic transformation, which is called the 'Gold Sonic', taking which, Sonic can travel for a limited time with the speed of a thousand times the speed of sound. This circumstance makes him one of the fastest solid-body objects in the universe besides elementary particles or dead cores of stars (approx. 1100 times slower than the speed of light).
Sonic in media
There is much media presence of Sonic:
• 7 animated series with 340 episodes in total (from 1992 to 2022)
• TV special in 1996 (Christmas-themed)
• 4 web series (from 2008 to 2019)
• 2 films (2020 & 2022), featuring Jim Carrey as Dr. Robotnik
• 12 printed comic books
• 6 game books
• At least 5 manga
• At least 25 novels & books
• 28 official games featuring the ex-rival Mario, themed with tennis, golf, baseball, striking & other Olympic games.
Sonic influence in science
Sonic Hedgehog is the name of the protein in vertebrates, which is encoded by the SHH gene. This is a large protein molecule, which is responsible for embryonic morphogenesis (particularly, the development of lungs, teeth & doing the regenerative function). It was named that by a scientist Dr. Robert Riddle when he saw a magazine brought home by his wife that had an Sonic character on its cover.
Robotnikinin is the name for a thing that's officially defined as a 'potential inhibitor of the Hedgehog signaling pathway'.
Today, these names are considered obsolete & aren't in official or clinical use anymore because they sound too frivolous to serious audiences.
Sonic simple games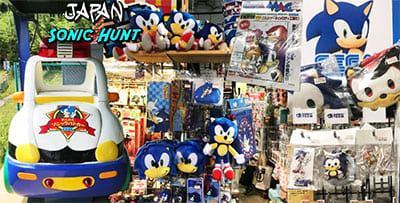 There are many simple & other games connected to Sonic (excluding the mainline of official games of the Sonic universe)
• Sonic Spinball (a pinball game)
• Super Smash Bros. (wrestling & fighting)
• Fighters Megamix & Segagaga (fighters)
• Sonic Dash (endless runner)
• Sonic Forces (action-adventure side-scrolling platformer)
• Painting games (pick colors & give them to characters & backgrounds)
• Changing appearance
• Maze escapers
• Other sorts of fighters.
Sonic merch
There is a large volume of merch, official & unofficial, which was launched through the years of Sonic's existence: from apparel & elements of it (ties, hats, footwear), mugs & accessories to stickers, holders, toys & collectibles.